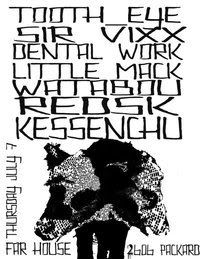 Tooth_Eye
http://soundcloud.com/tooth_eye
Playing Michigan for his first time Tooth_Eye brings forth some of the finest breakcore Chicago has to offer. Nothing short of a veteran Tooth_Eye has been producing breakcore and releasing albums for nearly a decade now! Dont miss out!
Sir Vixx
http://soundcloud.com/sir-vixx
Another chicago breakcore wizard. Juggling in between making breakcore and signing with his punk rock band Sir Vixx has non stop hardcore breaks that pound as hard as nails. Keepin chopped up beats alive!
Dental Work
http://soundcloud.com/dentalwork
Jaw Watson. One of the most motivated productive people I know. Come see what noise music is all about. With seriously near a hundred releases and splits Dental Work annihilates sound and devastates everything.
Little Mack
http://soundcloud.com/little-mack
Psychedelic breakcore gabber moniker Little Mack coming through once again to light the place on fire. Fast driven breakcore with a splash of psychedelia and gabber kicks always makes the kids bang their fists. Over a decade strong!
Watabou
http://soundcloud.com/watabou
Breakcore screamo glitch warrior Watabou is new and fresh on the scene and is making a huge impact! Garaunteed to make you move and pump your fist. Keeping that super hard vocal driven breakcore alive!!!
RedSK
http://www.last.fm/music/RedSK
Harsh noise. Extreme filth. RedSK is an unstoppable wave of noise drenching all innocent bystanders in its way. When hes not spittin rhymes with his gutter rap hes killing audio and leaving rubble behind.
Kessenchu
http://soundcloud.com/shkinwe
Hyper DnB booty fresh beat dance madness! Come tear da club up snd get hype!